In order to ensure that modern maritime transport logistics technologies create a smooth and efficient cargo transportation process in the international market, it is important to select the most suitable sea and land cargo transportation technology, plan optimal logistics routes, be able to create optimal cargo handling scenarios, and involve an optimal number of partners with the main goal of satisfying the needs of cargo senders and recipients. The study program "Maritime Transport Logistics Technology" is designed to prepare a specialist who ensures the connectivity of the international logistics chain in the maritime transport logistics system.


Degree: Professional Bachelor of Technological Sciences
CoC: Officer in Charge of a Navigation Watch
Career: Master


More information in the AIKOS System.


Professors: researchers, scientists, and practitioners in the fields of shipping, maritime port technologies, international logistics, port management, and maritime economics, who base their knowledge on professional experience in port companies.Some of the subjects in the study program take place in electronic simulators that simulate the activities of real maritime port cargo terminals and the information systems of cargo and ships in the Port of Klaipėda, in computerized training rooms.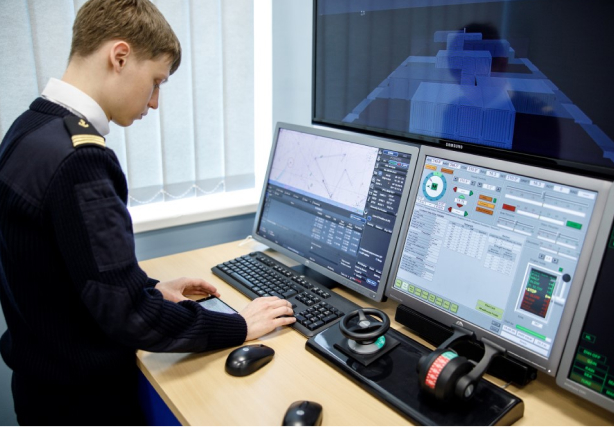 Career
The professional bachelor's degree in Technology Science obtained at the Lithuanian Maritime Academy opens up opportunities to work in both Lithuanian and international logistics companies, organizing and conducting cargo processes, managing the necessary equipment and technology, and their operation. In Klaipėda, graduates are offered around 23,000 job positions, created by the Klaipėda State Seaport and companies operating in activities related to the maritime transport sector.
Graduates of the Maritime Technology study program are maritime cargo technologists who work in cargo terminals at seaports and customs posts.
During their practical training, graduates of the Maritime Transport Logistics Technology study program work in positions such as stevedore, cargo operations manager, technical director, logistics technologist, cargo technologist, logistician, manager of logistics and technological projects, etc., in companies operating in the maritime transport sector at the port.
Study Program Objective
To prepare maritime transport logistics technology specialists capable of designing and managing maritime transport logistics technology processes, independently developing and implementing cargo transportation by sea logistics projects in the global market, applying modern maritime and land cargo transportation technologies, integrating them with port, maritime, and land transport technologies, information and communication technologies, cargo forwarding, and storage processes. This should be based on research results related to cargo flows, cargo transportation routes, transport vehicles, and other important elements of the cargo transportation process, while adhering to principles of logistics timeliness, safety, efficiency, intermodality, internationality, in accordance with national and international maritime laws, International Maritime Organization conventions, quality standards, port and maritime safety, and environmental requirements, and being able to work individually and in a team, organize their work, plan time, and continuously develop their professionalism and overall knowledge.
Practice
Maritime transport logistics technology practical training is carried out twice: at the end of the first year and during the final semester of the third year:
In the first year, students undertake introductory practical training in maritime transport and port technologies.
In the final year, students engage in maritime transport or intermodal transport (optional) logistics technology final professional internship.
The duration of practical training in the Maritime Transport Logistics Technology study program is 4 months. Practical training locations include companies related to maritime transport, maritime cargo handling, maritime logistics, transportation, cargo forwarding, ship and maritime line agency, or other related activities in the maritime sector or companies associated with this sector.
Why Choose This Study Program?
This is the only maritime transport logistics technology study program in the country that encompasses the global supply chain in a broader sense and places significant emphasis on the maritime transport and port sector, as about 90 percent of global international trade is conducted by sea. Such studies allow students to study not only in all higher education institutions where logistics studies are conducted but also in maritime academies.
Maritime technology studies and the competencies of future specialists are based on the needs of the international maritime transport sector and the latest maritime technologies, regulated by conventions of the International Maritime Organization. Therefore, the structure of the study program and its subjects are similar to programs conducted in foreign maritime academies. Students can freely choose exchange programs under the Erasmus+ program at any foreign maritime academy or university, as well as in other higher education institutions conducting studies in the same or related field. This provides an opportunity for graduates to acquire additional competencies and better prepare for the job market.
Practical training and subjects in the study program extensively employ specialized computer programs and electronic simulators, simulating real information systems in Klaipėda and other seaports, making it easier for students during practical training or when starting work;
The practical program "People Safety and Ship Survivability (STCW A-VI/1)" takes place at the LAJM Seafarers Training Center pool with lifeboats and helicopter hoist simulators, firefighting and first aid laboratories;
Communication in a foreign language is essential in the international maritime transport sector; therefore, marine and business English is taught, along with an optional second foreign language such as Russian, Spanish, or German;
Lecturers, researchers, employees, and managers from various maritime business companies provide the latest unique theoretical and practical knowledge about technologies used on ships and in ports, cargo terminals, and organize study trips to port and shipping and logistics companies;
Normally, during professional internships, interns work and receive remuneration in seaports or other companies;
By collaborating with the Naval Forces, LAJM students can participate in the Junior Naval Officer Training Program and obtain the reserve lieutenant military rank and continue service in the Lithuanian Armed Forces."
Study Environment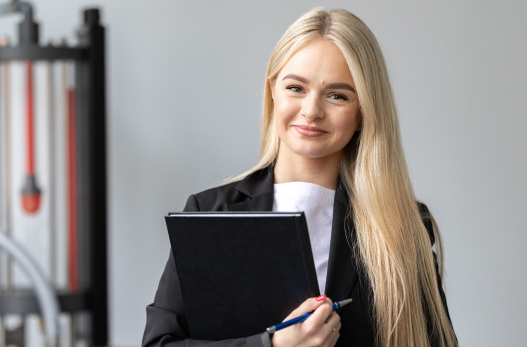 Description of Degree Programme

Bendrąjį priėmimą vykdo Lietuvos aukštųjų mokyklų asociacija bendrajam priėmimui organizuoti (LAMA BPO).
Lietuvos aukštoji jūreivystės mokykla – rinkis mus ir pradėk
savo karjerą jau dabar.