This is the only management program that prepares specialists-managers for the national and international maritime business and maritime transport sector. The classic study program has been running for over 20 years. The studies take place in Klaipėda, and the study program was developed in collaboration with the Netherlands Maritime University.


Studying in the "Port and Shipping Management" study program provides an opportunity to understand and learn to manage the international maritime business sector, which operates 24 hours a day and 7 days a week. This includes activities such as ship agency, cargo forwarding, management of international logistics projects, cargo exchange management, international cargo logistics chain management, understanding of various cultures, and intercultural organization management. It also involves shaping the personnel of shore-based port and shipping companies and ship crews.


More information in the AIKOS system.


Who is this study programme for?


Who wish to work on board of various ocean going or inland water ships within the global maritime industry;
Who wish to gain a broad technologies and engineering knowledge specialising in shipping;
Who wish to have gone on to employ a wide range of international companies.


Advantages of studies in LMA:


higher education high quality studies in Europe;
worldwide benchmarked marine study programme;
prestige and quality of Lithuanian Maritime Academy;
study mobility in more then 30 universities in Europe in frame of Erasmus+ programme;
training using modern navigation simulators;
studies and practice in strong cooperation with maritime industry.


The uniqueness of studies is links with global maritime industry – guest lecturers are invited from various port companies, fieldtrips are organised, research and practice are provided.


The programme including 12 months of practice on board of ships.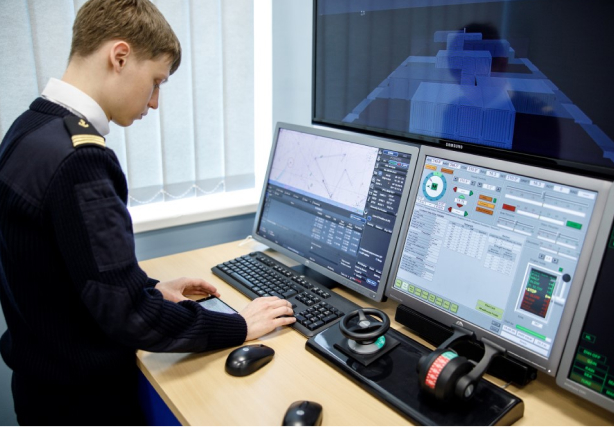 Practice on board of ships


Career
Graduates of the Port and Shipping Management program can pursue careers ranging from specialists to managers in various sectors related to maritime and transportation business. They can work in positions such as:
Specialists and Managers in Sea Port Cargo Terminals
Employment in Shipping Lines and Maritime Companies
Employment in Maritime Agencies
Freight Forwarding Companies
Customs and Customs Brokerage Services
State-owned Enterprises in Maritime and Transportation Management
Military Units such as the Lithuanian Army and Naval Forces
Klaipėda State Seaport Authority
Maritime Department of the Lithuanian Transport Safety Administration
Graduates can hold roles like stevedores in sea ports, cargo planners, cargo expeditors, ship, shipping line, or ship crew agents, ship chartering brokers, import and export managers, maritime and land transportation, logistics project managers, maritime (water) tourism managers, and other managerial positions in companies related to sea ports and maritime sectors, as well as in companies serving land transportation or port operations.
Program Objective
To prepare a port and shipping manager who will be able to apply knowledge from social, humanitarian, physical, and technological sciences to operate in the national and international maritime sector market.
Objectives of the specialization in "Maritime Business Management": The objective of the specialization in "Maritime Business Management" is to act as an agent for the formation of ships, shipping lines, and crews, capable of expediting the transportation of various types of cargo by sea and land routes, handling customs procedures, and conducting other related activities in the international maritime transport sector, taking into account the peculiarities of the operation process and technology, in accordance with national, international, and maritime legislation, as well as quality standards.
Objectives of the specialization in "Maritime Business Financial Management": The objective of the specialization in "Maritime Business Financial Management" is to understand the structure of maritime business finances, the principles of various types of maritime businesses, and based on this information, be able to manage the company's finances, utilizing the latest financial technologies and various accounting models in the national and international maritime business.
Objectives of the specialization in "Maritime Tourism Management": The objective of the specialization in "Maritime Tourism Management" is to organize maritime and inland waterway tourism and hospitality businesses on the coast and waterfront, be capable of creating water tourism routes, providing hospitality services to tourists, organizing boat trips, managing small vessels, and conducting excursions for tourists along coastlines and waterfronts, following national and international tourism requirements.
Why choose this study program?
The "Port and Shipping Management" study program is the only management-focused program that prepares specialists and managers for the national and international maritime and shipping industry. This classic study program has been running for over 20 years.
It is the only maritime sector management study program in the country, widely recognized in maritime academies worldwide and is part of the maritime studies system.
Students have the freedom to choose part-time studies at any foreign maritime academy or university, as well as at other higher education institutions offering management studies. This provides opportunities for graduates to work in national and international seaports or maritime business companies.
Effective communication in foreign languages is crucial in the international maritime transport sector. Therefore, maritime and business English is taught, and students can choose a second foreign language (Russian, Spanish, or German) optionally.
Our instructors, scientists, researchers, employees, and managers from various maritime business companies provide the latest theoretical and practical knowledge about shipping, port operations, peculiarities of maritime sector management, and organize educational visits to maritime business companies.
Through partial studies or internships under the Erasmus+ academic exchange program, students can choose higher education institutions or companies in major European ports.
Practice
The final professional activity of the "Port and Shipping Management" study program is the internship, which takes place in the third year of study. The internship is conducted during the sixth semester and has a duration of 4 months. The advantage of the final professional activity internship is that it provides students with an opportunity to delve into a specific, narrower area of port and shipping management and choose their internship based on their specialization:
Port cargo terminals;
Shipping;
Formation of ship crews;
Freight forwarding;
Ship agency.
Students carry out their professional internships in companies with which the program's instructors maintain close, long-term professional collaboration. After completing the internship, companies often offer students the opportunity to continue working within the company.
Internships in Port and Shipping Management can be carried out in state institutions responsible for port management and maritime supervision, maritime cargo handling, shipping, freight forwarding, ship and shipping line agency, or in related businesses in the maritime sector. This may also include customs posts, the Lithuanian Armed Forces' naval units, among others. The information gathered, data collected, and knowledge acquired during the internship are used in preparing the final bachelor's thesis in the fourth year during the autumn semester.
Continuation of Studies
Graduates have the opportunity to pursue studies in second-cycle social science programs and obtain a master's degree in accordance with the procedures established by national and foreign higher education institutions. This allows them to further enhance their qualifications in fields such as business management, international trade, international marketing, public administration, tourism management, or a related area, with the aim of acquiring new competencies.
Study environment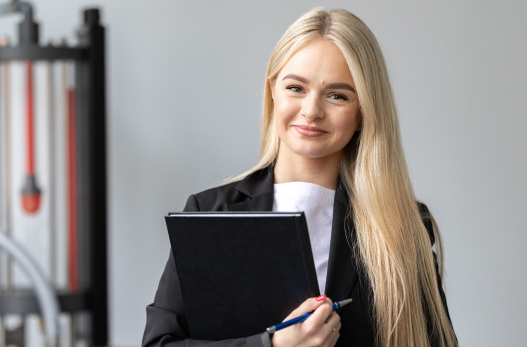 DESCRIPTION OF DEGREE PROGRAMME
1st Year (60 ECTS)
Core units
Applied Mathematics
Economics Theory
IT and Systems
Lithuanian culture
Management Theory
Port and Shipping History
Port and Shipping Management Basics;
Ships Structure and Equipment
Optional
International Trade; Shipping Market; Transport Geography
Philosophy; Politics Science; Sociology;
Second Foreign Language (Russian, Spanish, German)
2nd Year (60 ECTS)
Core units
Applied Research Methodology
Business Management Basics
Economical Statistics
Personnel Management and Career Projection
Logistics Basics
Port Terminals and Operations
Cargo Handling Technology and Mechanization
Labour and Civil Safety, Environmental Protection
Port and Shipping Activities Introductory Practice
Optional
International Business Ethics, Ethics Basics, Intercultural Communication;
Quality Management, Maritime Environment Protection Management
3rd Year (60 ECTS)
Core units
Business Project Management
Crewing
Customs Procedures and Freight Forwarding
Maritime Business Communication
Maritime Commercial Law
Maritime Freight Information Systems Simulator
Port Terminal Operation Management Simulator
Ships Agency
Professional Activities Practice
Optional
History of European Culture; Culture of Civilization; Religious Studies;
Management Psychology; Social Psychology; Communication Psychology.

Bendrąjį priėmimą vykdo Lietuvos aukštųjų mokyklų asociacija bendrajam priėmimui organizuoti (LAMA BPO).
Lietuvos aukštoji jūreivystės mokykla – rinkis mus ir pradėk
savo karjerą jau dabar.