Learn how to operate ships equipped with modern computerized navigation systems related to global digitization processes! Choose an international career and one of the highest salaries, become a sea captain and guide for the ship's crew!


Degree: Professional Bachelor of Marine Technologies
CoC: Officer in Charge of a Navigation Watch
Career: Master


More information in the AIKOS System.


Professors: ship masters, sea captains, researchers and scientists in the field of marine technology, professional seafarers who base their knowledge on personal experience of working at sea.


Advantages of studies in LMA:


higher education high quality studies in Europe;
worldwide benchmarked marine study programme;
prestige and quality of Lithuanian Maritime Academy;
study and internship mobility in more then 60 universities and 30 companies in Europe in frame of Erasmus+ programme;
training using modern navigation simulators;
studies and practice in strong cooperation with maritime industry.


The uniqueness of studies is links with global maritime industry – guest lecturers are invited from various port companies, fieldtrips are organised, research and practice are provided.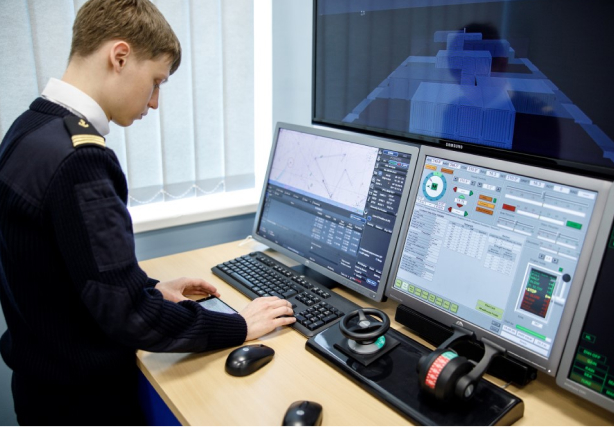 Practice on board of ships
Who is this study programme for?
Who wish to work on board of various ocean going or inland water ships within the global maritime industry;
Who wish to gain a broad technologies and engineering knowledge specialising in shipping;
Who wish to have gone on to employ a wide range of international companies.
Continuation of Studies
Graduates have the right to pursue higher-level (master's and doctoral) degree programs in accordance with the procedures established by higher education institutions. The choice of further study direction is possible both in social and technological/engineering fields. In Lithuania, excellent opportunities for this can be found at Vilnius Tech (VGTU) and Mykolas Romeris University, as well as in other institutions. Students from abroad can also successfully study at universities in Poland, Latvia, the United Kingdom, Sweden, Bulgaria, and other countries at the university level.
Practice
The duration of professional activity internships is 12 months. They are carried out in the 2nd and 3rd years of study. During the internship, practical professional skills are acquired while working on various types of sea vessels (container ships, bulk carriers, tankers, passenger ships, etc.) in various navigation regions around the world. The first maritime degree diploma is issued upon successful completion of the study program and accumulating 12 months of work experience at sea. Participants in the Junior Officer Leadership Training (JOLT) program carry out a 2-month internship on Lithuanian Armed Forces naval vessels. This internship is part of the sea training practice and is included in the overall sea training duration.
Why Choose this Study Program?
This study program is worth choosing for several important reasons:
International Recognition: This study program complies with the standards of the International Maritime Organization (IMO) and the 1978 International Convention on Standards of Training, Certification, and Watchkeeping for Seafarers (STCW). This means that your education will be internationally recognized, and the qualifications you obtain will be valid not only in Lithuania but also in other countries;
Career Opportunities: Upon completing this program, you will not only earn a professional bachelor's degree but also gain professional qualifications as a ship officer. This qualification allows you to obtain a position as a watchkeeping officer, maritime degree diploma, and accumulate work experience at sea to reach the highest rank of ship's captain, maritime degree, and lead a ship's crew;
Comprehensive Training: This program provides comprehensive training in maritime technology, preparing you for a wide range of roles and responsibilities in the maritime industry. You will gain practical skills and knowledge that are highly valuable in the field;
Practical Experience: The program includes practical internships and sea training, ensuring that you acquire hands-on experience in addition to theoretical knowledge;
Unique in the Country: It's important to note that this program is the only one of its kind in the country, aligning with international standards and offering a specialized education in maritime technology and ship officer qualifications.
Overall, choosing this study program offers you the opportunity to pursue a rewarding and internationally recognized career in the maritime industry, with the potential to advance to high-ranking positions in ship management and navigation.
Study environment
Studies take place in a modern environment that meets international standards. Traditional, engaging lectures, seminars, discussions, scientific and professional literature analysis take place, supported by a modern library with the latest scientific and informational publications, as well as the school's internal electronic learning environment and electronic resources.

During lectures, exercises, and seminars, modern ship management scenarios and cases are analyzed, technological solutions to ship management problems are sought, and computer-based ship voyage modeling is conducted. Computerized education is particularly relevant during studies, practical skills development takes place on electronic navigation simulators, simulating real ship management scenarios.

The program places a strong emphasis on leadership and psychological resilience training for students, as well as practical exercises, individual and team projects, laboratory work in areas such as ship safety and human life preservation, fire suppression, medicine, radio communication, electronic charting, engineering, and technology, among others. Students also engage in independent work and professional internships on sea vessels sailing across the world's oceans and more.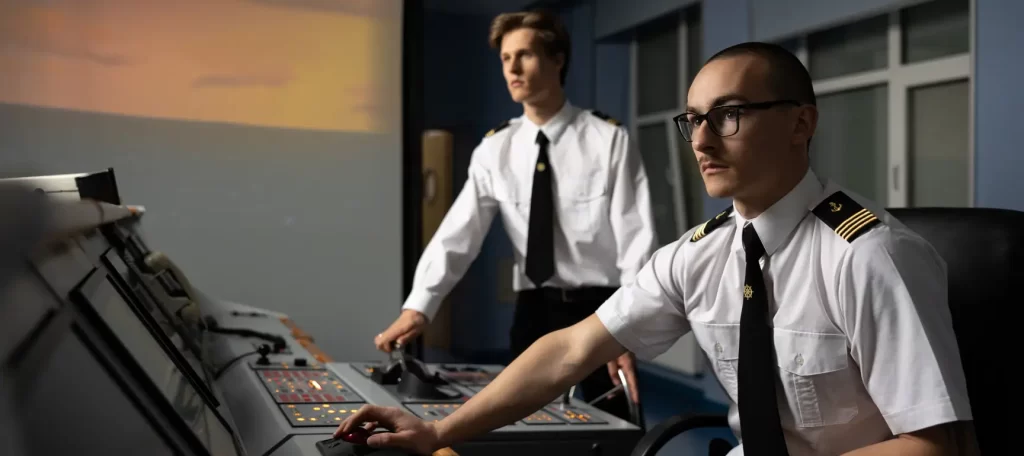 Description of Degree Programme
1st Year (60 ECTS)
Core units
Applied Mathematics
Applied Physics
Introduction to Maritime English
Lithuanian language for foreigners
Navigational Mathematics
Personal Survival Techniques, Fire Prevention and Fire Fighting, Elementary First Aid, Personal Safety and Social Responsibilities training programme (STCW A-VI/1), Security Training for Seafarers with Designated Security Duties training course programme (STCW A-VI/6-1,2)
Ship Construction
Ship Handling and Manoeuvring
Ship's Electrical and Electronical Equipment
Ship's Power Plants
Shipboard equipment
Transportation Engineering and Information Technologies
Optional
Philosophy; Politics Science; Sociology;
Second Foreign Language (Russian, Spanish, German)
2nd Year (60 ECTS)
Core units
Advanced Fire Fighting (STCW A-VI/3) and Medical First Aid (STCW A-VI/4-1) training programmes
Bridge Navigation Aids
Fundamentals of Management and Human Resources Management
Labour, Civil Safety and Environmental Protection
Marine Navigation and Determination of Position
Navigational Meteorology
Pilot, Ship Handling and Meteorology Terminology and Language Practice
Ship Compasses
Ship Handling in Emergency Situations
Ship Theory
Watchkeeping, Emergency Response and Communications Terminology and Language Practice
Optional
Seagoing Training of Professional Activity/ Coastal Sailing Practice of Professional Activity
3rd Year (60 ECTS)
Core units
Navigational Aids and Cargo Handling Terminology and Ship Correspondence
Technology of Cargo Carriage by Sea
Maritime Law
Ship Handling in All Conditions
Forecasting Oceanographic Conditions
Planning and Conducting Voyage, Determination of Position
Celestial Navigation
General Operator for Global Maritime Distress and Safety System (GOC for GMDSS)
Automatic Radar Plotting and Positioning Systems (ARPA)
Optional
Seagoing Training of Professional Activity/ Coastal Sailing Practice of Professional Activity
4th Year (60 ECTS)
Core units:
Bridge Resource Management
Electronic Chart Display and Information System (ECDIS)
Final qualifying examination
Fundamentals of Marine Transport Economics
Professional Bachelor Graduation Thesis
Proficiency in Survival Craft and Rescue Boats other than Fast Rescue Boats training programme (STCW A-VI/2-1)
Optional
Final Seagoing Training/ Final Coastal Sailing Practice